3.5.11: Scion Rock Fest
The Scion Rock Fest was everything I wanted it to be, and more. Unfortunately, we weren't granted press passes, so I went as a fan. I don't really know what to say. It was an experience that I'll never forget. I waited in the will-call line for a couple of hours with a diversity of Metal Heads. There were older heads, heshers, thrashers, retro thrashers, retro retro thrashers, crusties, punks, and even WOMEN! I'll just give a quick rundown of bands that I saw, and include whatever video/photos I was able to capture.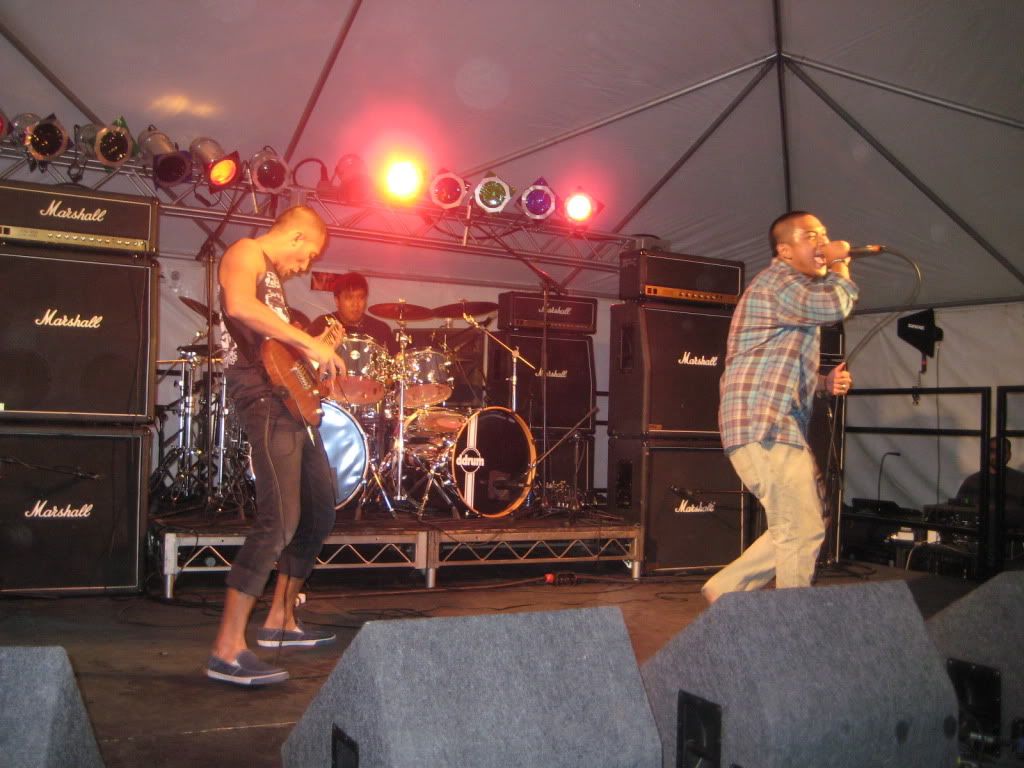 Singapore's Wormrot kicked things off in tent #1. I'm not "in-the-know" regarding grind, so I couldn't tell you what's hot and not. But I could tell you that in that past year or so, Wormrot made plenty of noise across all sub-genre's of extreme music with their debut album Abuse. Being front row for these cats certainly felt like Abuse. I couldn't resist the joke, sue me. I think I have permanent hearing damage from watching them play, but it was worth it. I've never witnessed such ferociousness from a band before. Vocalist Arif looks like he's going to die between songs, practically collapsing to the floor from what appears to be exhaustion or stigmata. Drummer Fit, who appears to be everything but, is perhaps the most focused musician I've ever seen. The communication and eye contact between him and guitarist/Tecate drinker Rasyid is really remarkable. You'd think that the music they make wouldn't need to have such precision, but then you see them live and realize how fucking technical they are. Its a shame their set was so short, but it was truly memorable. One of my favorite of the day, that's for sure. Here's a couple of songs from Wormrot's set. Click here!
When that ended, I did an Olympic style speed walk over to the Glasshouse to catch a couple of songs from Christian Mistress. I really dug Agony & Opium and wanted to hear what those songs sounded like live. They didn't disappoint. The guitarist who looks like Derek Smalls from Spinal Tap is a goddamn animal, and Christine Davis is a Budweiser drinkin', Marlboro smokin' Goddess sent from heaven. She didn't sound too great, but her attitude more than makes up for it. Unfortunately I didn't stick around long enough as there was more metal to be witnessed for the next 8 hours.
Tent #2 was clearly the stoner tent. I walked in while Dark Castle was playing. They're probably one of my favorite bands in the Doom/Weed/Sludge genre. Prior to watching them play, I had no idea it was just two members, with one of them being a woman. Damn those unisex names like Stevie. I kinda wish I had stuck around for the entirety of their set. The vibe in that tent was unreal. Apart from the douchey moshers, everyone was in agreement with what was going on. I swear I noticed practically everyone doing the heroin head bob at one point. Doom FTW.
I underestimated all the walking I was going to do and all the time I was going to have to manage. I waited far too long to leave Fuck The Fact's set. I could have very well stayed watching Dark Castle and slowly head banged my way into retardation, but, no, I had to listen to the hype. I'm all for metallic-hardcore, but when you throw the word "spastic" into that mix, I don't think I dig it too much. I didn't know what the fuck was going on half the time I stood around in tent #1 watching this shit. Strange interludes between songs only made it worse. I know they have mad cred, but I was really not impressed by FTF. So I made a poor choice, but was rewarded just a few minutes later by sticking around for the entirety of Bonded by Blood's set.
My taste is ever expanding when it comes to Metal, but I'm really a thrasher at heart. Hell, my first exposure to 'proper' metal was Metallica's Master of Puppets. That stuck with me for years and years! Anyway, it was cool to see the hometown band play a big fest like this. They were good, but not great. I wasn't that excited about Exiled to Earth, to be honest, and most of what they played came from that album. Still, it was nice to see massive circle pits and kids genuinely happy to see a band they love. I managed to get video of the first two songs. Click here to watch!
I was famished, and my knees were starting to hurt. Thankfully the good folks from Grill Em All were on location with two trucks, serving up the best burgers in L.A. QUOTE ME. So I ordered my Molly Hatchet and waited around for 40 minutes (it was worth it) to get my delicious burger. After devouring the goodness, I ran to tent #2 to catch what I could of Woe's set. Sadly, I was only able to see them play "Solitude." Which I got video of: Click here!
After a long rest, I realized I missed most of cough but was lucky enough to come in during the  song, which happened to be "Ritual Abuse" from the album of the same name. This normally 12 minute song became an almost 20 minute ode to Satan. The drummer seemed to be in agony during the entirety, and it was just an overall depressing feeling being there. Clearly, that's the vibe that the album has so I feel they did an excellent job with their performance. After Cough played, I bounced around and caught a few bands here and there. Death Angel was probably the best of the bands I had no intention of seeing, and of the bands I did want to see, Black Breath completely blew me away. So much interaction with the fans, so much showmanship, so much awesomeness wrapped up into 35 or so minutes. Check out Black Breath performing "Spit on the Cross" here!
After that I was just killing time until Municipal Waste came on. That was going to be *my* headliner, because word got out that only 300 people were going to be let into the Fox Theater for Morbid Angel. I was alright with calling it a night after the Waste went on. Fuck shows, Municipal Waste is the best PARTY I've ever been to. The Glasshouse was packed with the thrashers. It was a non-stop good time. From the moment the band went on and Tony Foresta threw a garbage can full of empty beer cans into the audience, until the encore, it was mayhem. The Grill Em All guys stage dived, Prince Paul was there, the moshpit didn't stop, the people were having FUN. It was over far too quick, but at least I got to see and feel garbage water on my face from a Municipal Waste show. Check out the links below for all 4 videos I captured during Municipal Waste's set!
Municipal Waste: Part 1/Part2/Part 3/Part4
So that's pretty much it regarding Scion Rock Fest. I wish I was able to acquire press passes, but it wasn't meant to be. Hopefully next year this site will be bigger, and I'll be able to not only acquire passes, but attend the event in whatever city it'll be in! Thanks for reading!

Leave a Reply
You must be logged in to post a comment.